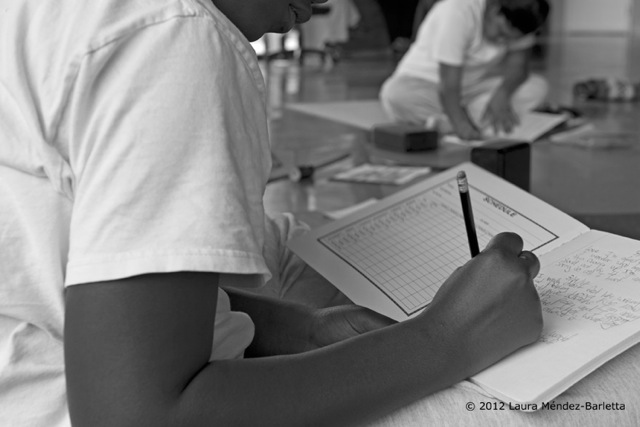 Writing Teacher Anne Heffron recounts her first days with girls in juvenile detention.
Three years ago, I taught my first writing class for The Art of Yoga Project (AYP). I went to the Wright Center with a lot of excitement and ideas, and by the end of my hour the girls were practically on me, drawing hearts on my fingers, writing their names on the back of my hand. They were wild from writing, wild from my excitement, wild from the fact that one of the girls, with my encouragement, had read her story to us that featured the shouted refrain, "Fuck that!" Rebecca Bara was the lead yoga teacher and Site Director, and she was watching with me with…okay, not horror, but not not horror either.
Rebecca called me after the class, and she reiterated to me that AYP and the juvenile facility had rules, rules that needed to be followed. I am a creative writer. Rules? Hello? Finally, I said, "Why don't you teach the class?"
Rebecca is smart, and she is a yogi. It's a terrific combination, and soon she had me eating out of the palm of her hand, sticking to the amazing curriculum Mary Lynn Fitton had created, teaching in a way, I hope, that leaves the girls empowered instead of wild. Because empowered, a focused wildness, will get them a lot farther than pure wildness has gotten them in the past.
I teach a ten-week curriculum. That's one hour times ten. Ten hours. That means there are forty-two weeks every year where I do not see the girls. That is 294 days or 2,058 hours. I have no idea how much time I spend thinking about the girls, but I do know it's a daily thing. I try to think of the perfect writing projects, things that will make them crack open, seal shut, sing, hush. Projects that will let them see their strength, their courage, their beauty. It's a lot to try to get into ten hours. I guess that's why I think about it so much.