The Growing Field of Yoga Service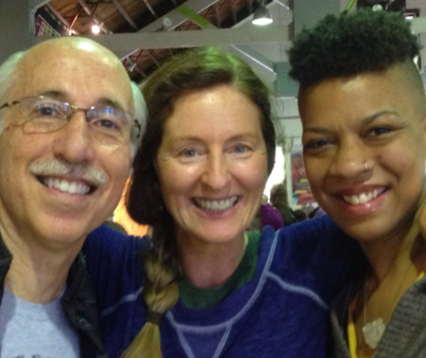 By Mary Lynn Fitton, from the Yoga Service Conference at the Omega Institute in New York, May 2014.
I am once again awed by the power of intention. Late last Friday afternoon, I gathered with fellow faculty members to connect and set the tone for this year's Yoga Service Conference—the third annual. Jenn Cohen Harper, board member and tireless conference organizer, reminded us of our purpose in being there—to welcome, embrace, educate, assist and encourage other individuals and organizations on this path to serve the underserved. I looked around the room and felt a surge of inspiration of how our community had grown.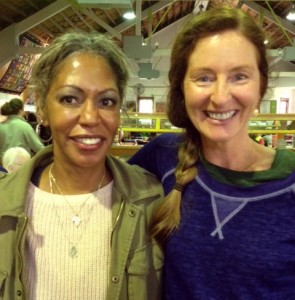 Just 5 years ago, I met at this very spot with Founders and Executive Directors from 6 other organizations to form the Yoga Service Council (YSC): Bent on Learning, The Lineage Project, Little Flower Yoga, Niroga Institute, Off the Mat, Into the World, Sprout Yoga, Street Yoga and yogaHOPE. We were a small group of organizations, bringing yoga to underserved populations. As the YSC website reports, "we worked to support each other, exchange ideas, and envision the future. A collaboration was sparked that has made all of our efforts stronger and more intentional. 
Each year the membership of the YSC grows, and our capacity to serve grows with it. We meet every May through the generosity of the Omega Institute to exchange best practices, discuss how to expand access, and infuse our programs with renewed energy and inspiration."
This year was no exception. It was rich with learning and connection. I listened to a panel on diversity and social justice with Hala Khouri, Nikki Meyers and Teo Drake who told us that in this work we had to be willing "to have our hearts broken" and that it is really our response to situations that matters most. I was reminded to take always a breath before speaking to wait for "wisdom to knock on the door." I heard Kelly McGonigal give us the latest research on stress and resilience. I presented a Breakout Session with Leslie Booker and Bob Altman titled "When Things Go Wrong" and shared The Art of Yoga Project's latest knowledge in neuroscience and trauma as the framework for understanding brain-based behavior challenges in our yoga classes.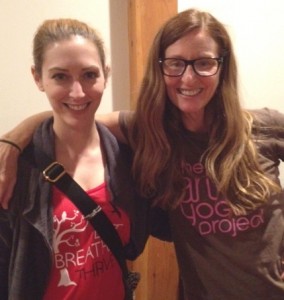 But it was the one-on-one conversations that stood out as highlights for me. I connected with leaders who serve veterans, children and seniors in under-resourced communities, homeless individuals, people with cancer and eating disorders and (like The Art of Yoga Project) incarcerated and at-risk youth. I met Heidi who wants to bring yoga to end the misery of generational poverty. I met Carrie who wants to bring yoga to veterans because her own partner suffered from PTSD from the Iraq war. I met Sara, who works with boys and girls with eating disorders (and also knows my friend, Sally, from high school!!) But who really astonished me was Cheryl. Cheryl saw AYP featured in the documentary YogaWoman and was so inspired that she came all the way to Omega from Singapore to meet us so she could bring our Yoga and Creative Arts Curriculum to girls in her community!
And what better spot to find us than the Omega Institute, a pastoral setting north of New York City, which claims to be "more than simply a place, but a global community that awakens the best in the human spirit and cultivates the extraordinary potential that exists in us all." I couldn't agree more! Thank you, Omega. Thank you, fellow YSC members and faculty and thank you, conference participants. You are my Yoga Service Community and your passion, honesty and commitment to this work moves me beyond words. Until next year… Namaste.