Professionalism, Depth, and Spirit

Our 2015 Training
I dreamt
And in my dreams life was joy
I awoke
And to my sorrow life was service
I opened my heart and behold
My joy became my service
-Rabindranath Tagore
Lisa Pedersen, AYP Executive Director, read those words to 42 women last Friday evening as we kicked off our 9th annual training "Using Yoga and Art to Empower At-Risk and Exploited Teen Girls." We start each of our trainings this way, reminding participants why we are there and thanking them for their intention to serve. I felt it was our best training ever and our leadership team agreed. Three things stood out for me this year: Professionalism, Depth, and Spirit.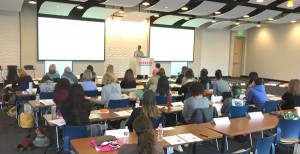 Professionalism: A big shout-out to the Sobrato Center for Nonprofits for hosting us in their beautiful Shoreway Conference room. It allowed us to have desks and tables, as well as big screen media AND space for our large circle of yoga mats. This provided our participants a variety of ways to take in information—didactic to somatosensory!
Depth: Each year our content evolves, grows and clarifies. From our new state-of-the-art AYP Trauma Toolkit, to safety, communication, cultural humility, research, commercial sexual exploitation of children (CSEC), self-care, and trouble-shooting, this year we dove even deeper than ever before! Participants also took part in a sample yoga and creative arts class themed Honoring the Feminine.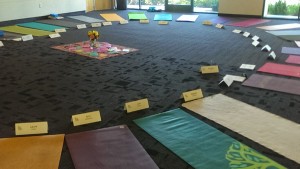 Spirit: Part of what makes The Art of Yoga Project who we are is our circles. We had several in our training, beginning and closing each day and in between to "ground, orient and center." This year our closing circle included a community blessing with singing and guitar by the lovely performer and AYP teacher, Shannon Larsen. It was loaded with SPIRIT! AYP Site Director, Sarah Barnard, (in her 7th year of leading training with us) put it well: "What I love about this year is how we were able to 'up our game' professionally while still keeping the important heart-centered community-building experience that people have come to appreciate. We cover some pretty intense material, but at the same time, I think people leave feeling refreshed as if they took part in a weekend retreat. Amazing! So proud to stand side-by-side with all of you!"