The Impact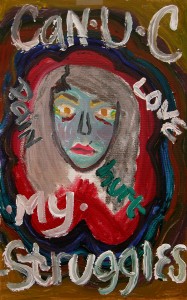 The Art of Yoga Project's Yoga & Creative Arts Curriculum offers a multi-dimensional approach to build the self-awareness, self-esteem and self-respect necessary for young women to make healthy lifestyle choices. When offered to teenage girls referred from the juvenile justice system, to the goal is to encourage the girls to exhibit pro-social behavior, empathy, positive relationships, self-control and accountability to self, others and community.
Studies on yoga and youth show:

Yoga helps to promote healthy development, self-esteem, and emotional adjustment in teens.
Yoga reduces aggressive behavior in young people.
Yoga reduces teenage stress.
Yoga helps treat eating disorders.
Yoga helps promote a healthier body image.
Measuring Our Results
Since its inception, The Art of Yoga Project has collected rich anecdotal evidence that demonstrates its success in helping girls at-risk. More recently, we have begun to move beyond qualitative observation and have designed a full-scale research agenda that will systematically analyze the impact that The Art of Yoga Project has on the girls we serve. This research agenda includes a rigorous quantitative approach that combines the use of standardized measures for pre and post treatment surveys; in depth, semi-structured interviews with the girls as they leave each facility, quarterly program feedback questionnaires, and; periodic interviews with custodial staff.
Partnerships with Stanford and San Jose State
We are currently collaborating with researchers from Stanford University's Psychology Department and San Jose State University's Center for Justice Research, Policy, and Training and Department of Justice Studies.
Our goal is to evaluate the impact of the Yoga & Creative Arts Curriculum on the girls we serve, as well as assessing its effects in the broader community. We also strive to further contribute to the small but growing body of empirical literature on the effectiveness of yoga and mindfulness-based interventions, gender responsive treatment alternatives, and other issues surrounding young women in custody. Distributing our research broadly through published articles and lectures is our ultimate objective.
Making an Impact
Preliminary results from our pre and post assessments indicate a statistically significant improvement in our three main indicators of success – self-respect, self-control, and self-awareness.
Over the last six quarters (18 months) our quarterly program feedback surveys have consistently shown that more than 85 percent of participating girls report using the tools they are taught in the Yoga & Creative Arts Curriculum for their emotional regulation outside class, and an improvement in their interpersonal skills and pro-social behavior.
Qualitative comments extracted from the exit interviews, the program feedback surveys and the pre and post assessments suggest that the girls benefit greatly from an opportunity to be calm and relaxed, a chance to learn how to best deal with their anger or negative emotions, and to spend time 'being in their bodies' each day.