Our Training

Our next training will be held in Spring 2015. Specific dates will be announced here and in our newsletter in early 2015.
The Art of Yoga Project offers training to yoga teachers, art therapists and other professionals in how to work with at-risk girls in their own communities, or with other organizations that work with this specific population.
Participants in our training program will learn about The Art of Yoga Project's integrated approach to teaching yoga in juvenile detention facilities, the value of integrating creative expression into yoga classes, and techniques for understanding and effectively handling issues specific to teen girls.
The program covers:
The Art of Yoga Project's gender-responsive, strength-based and trauma-informed programming approach
How to effectively partner with juvenile facilities for integrated rehabilitation of female teen offenders
Issues facing teen girls and how they manifest in the classroom (such as eating disorders, substance abuse, trauma and other mental health disorders)
Tips and techniques for teaching yoga to at-risk teen girls and how to effectively manage behavioral problems
How and why to integrate art into yoga classes with girls and a sample lesson plan based on The Art of Yoga Project's Yoga & Creative Arts Curriculum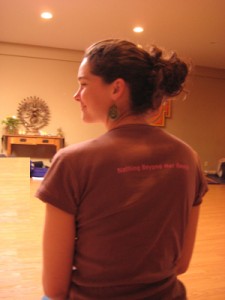 Taught and facilitated by: Mary Lynn Fitton, Lisa Pedersen, Sarah Barnard, Noell Clark, Kendra Zanotto and Shikha Prasad. Our teaching staff members are all multi-certified yoga teachers guiding at-risk teen girls through a challenging phase of their lives.  Mary Lynn is the founder of The Art of Yoga Project and the current Director of Programs. Lisa is the Executive Director.  Sarah is the Site Director in San Mateo and San Francisco counties; Kendra is the Site Director in Santa Clara County. Shikha and Noell are Aftercare Directors. Together, these six women are enthusiastically engaged in The Art of Yoga Project program and working with at-risk teens in the California Juvenile Justice System. The Art of Yoga Project programs combine health education, character development, yoga, meditation, writing, and creative arts to guide girls toward accountability, empowerment and well-being.