Staff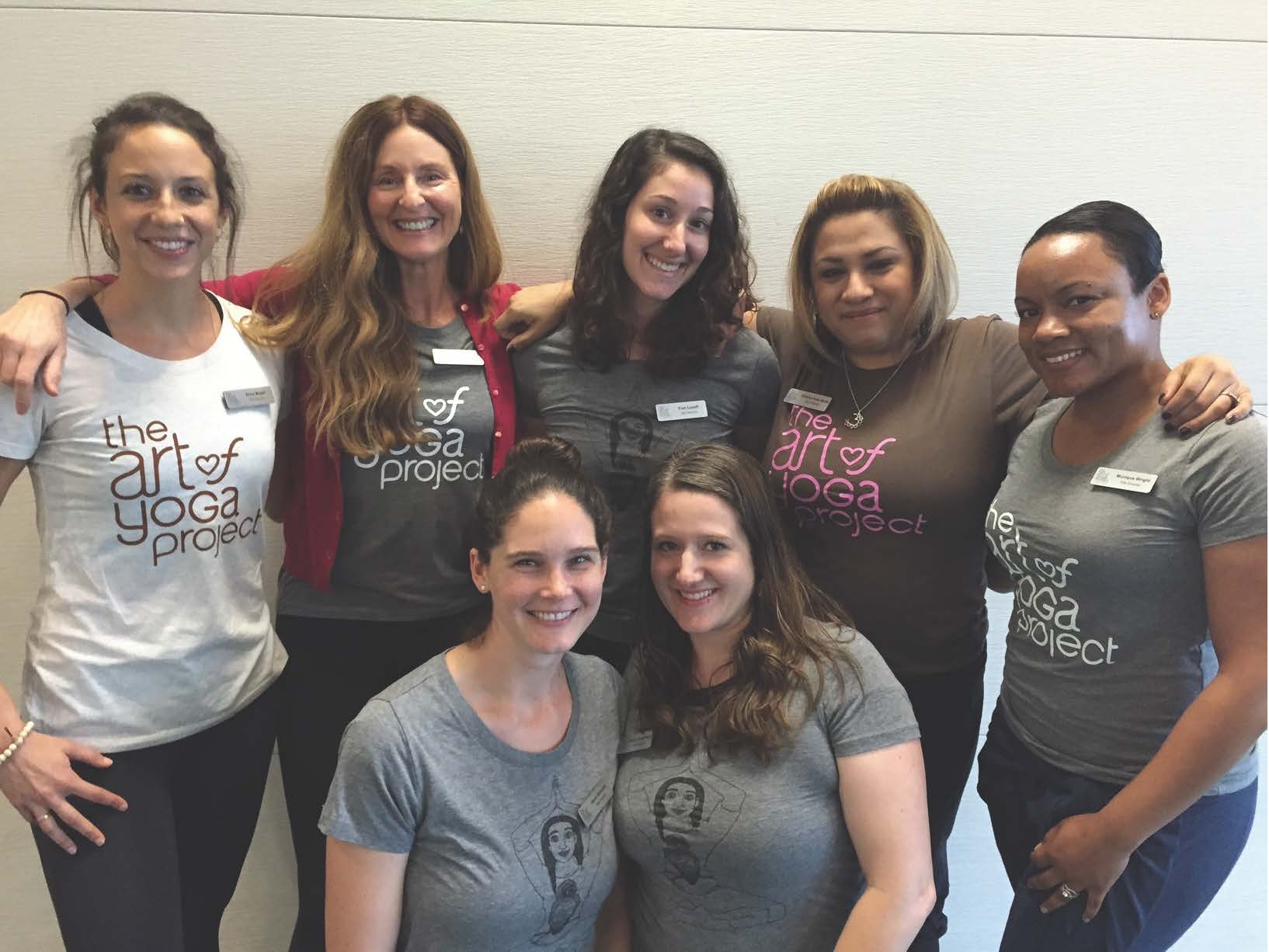 The team at The Art of Yoga Project comes from many walks of life, passionately contributing their experience and backgrounds to help fulfill our mission.
Lisa Pedersen
Executive Director
Lisa has been the Executive Director at The Art of Yoga Project (AYP) since 2009.  Before AYP, she had a notable career in high tech with an impressive track record in the corporate sector.  Lisa has lived and worked abroad for many years and has experience in fundraising and nonprofits through her volunteer work for the Junior League of Palo Alto Mid Peninsula and other Bay Area nonprofits. She is a certified yoga and meditation instructor through the Ananda Yoga Teacher Training program, which focuses on yoga's spiritual as well as physical dimension. She has been mentoring women and teens for many years. Lisa believes that empowering women and children builds healthy families and vibrant communities.
Mary Lynn Fitton
Founder and Program Director
Mary Lynn Fitton has a commitment to young women's health, empowerment and well-being. She is Founder and Program Director of The Art of Yoga Project. Mary Lynn received her Masters in Science and Family Nurse Practitioner degree at the University of California, San Francisco (UCSF) in 1994. She has been a registered nurse for over 25 years with specialties in neuroscience and women's and adolescent healthcare. In 2013, she was accepted into the Child Trauma Academy's train-the-trainer program for the Neurosequential Model of Therapeutics. Mary Lynn is a member of several county juvenile justice system task forces including the Gender-Responsive Task Force, CSEC (Commercial Sexual Exploitation of Children) Work Group, The Mayor's Gang Prevention Task Force, and the GIRLS Steering Committee. A certified yoga teacher since 1998 and founding member of the Yoga Service Council, her work has been featured in Yoga Journal, The San Francisco Examiner, Spirituality and Health, The Huffington Post and the International Journal of Yoga Therapy.
Serena Coleman
Site Director
Serena Martinez-Coleman began instructing art with The Art of Yoga Project in the summer of 2016. Serena has experience working with youth and art with a background as a former public school art teacher and in art therapy. She is an artist, activist, and counselor who has a passion utilizing art as a tool to empower others. Her role as an AYP art educator is thoughtful in her approach to using art materials within the detention facilities. Serena uses the Wise Inside-Women Artists curriculum to teach the young women about a female artist each month with the opportunity to create art based on the featured artist. When she is not working, Serena is spending time with family, creating art, and finishing class assignments for her doctorate in art therapy.
Noelle Kaplan
Site Director
Noelle began studying meditation in 2002 and established a yoga practice in 2009. In 2012 she completed her 200 hour certification to teach yoga with the intention of bringing the healing benefits of yoga and meditation to those who might not otherwise have access. She subsequently began teaching yoga to incarcerated youth in San Francisco and in 2013, she joined The Art of Yoga Project. She has worked to expand the reach of The Art of Yoga Project by bringing the curriculum to teen mothers in Philadelphia. She is particularly interested in yoga's ability to heal the negative effects of childhood trauma and plans to explore this through further academic studies. She holds a BA in Anthropology from UC Berkeley and a MSEd in Education from the University of Pennsylvania.
Jessica Archer Nuzzo
Site Director 
Jessica began practicing yoga in 1997, became a certified teacher in 2007, and joined The Art of Yoga Project in 2009. She found yoga at a challenging time of her life, and it became an invaluable tool of steadiness. She especially loves working with young women to help them to access yoga as a tool to navigate the rough times. Jessica is an E-RYT 500 certified Yoga Instructor with over 1500 hours of training and is also a certified Level 2 Reiki practitioner. Her foundations include in-depth study of anatomy and therapeutic alignment and training to work with high-risk youth. Her aim is to guide others clearly, safely and holistically through all the limbs of yoga, as practices that can allow us to engage in and live a more empowered life. Jessica received a BFA in Journalism and Theatre from New York University in 2001.
Christina Perez-Martin
Site Director 
Christina Perez-Martin, RYT 500, PRYT, Doula, has been with AYP since 2012. Christina grew up as an at-risk youth in San Jose, California, and had her first daughter at the age of 15. As a Chicana and young mother, she set out to disprove a social system that openly called her a statistic. She began activist work in 1996 at the age of 17 by facilitating gang intervention/prevention, serving at-risk youth in East San Jose. In 2003, as a single mom, she received a full scholarship to UCSC where she studied Developmental Psychology with a minor in Nutrition. In 2004 Christina's father, who she took care of in his last years, passed away from the AIDS virus. Soon after, she found the remedy of Yoga/Meditation to heal herself from all she had experienced while growing up.
Christina specializes in youth gang prevention/intervention, street outreach services, youth substance abuse/addition, teen-parenting, and curriculum for trauma-impacted youth. For over 17 years, Christina has implemented youth programming and served as a youth intervention specialist for programs such as City Year Silicon Valley, Clean Slate Tattoo Removal San Jose, Restorative Justice Santa Clara County, Mexican American Community Service Agency, YWCA Rape-Crisis Center, Santa Cruz Juvenile Probation, and Catholic Charities-Youth Education.
Christina's daughter is now 21 years old and attending ASU, as Christina continues to serve at-risk teens in hopes to create a world where all worlds fit.
Monique Wright
Site Director
Monique Wright-Gory, E-RYT 200 is an AYP Site Director. Monique dedicated herself to consistently practicing yoga in 2009. She attended her first teacher training in 2012 under the guidance of Noell Clark and Angie Poon. As a certified 200-hour E-RYT yoga teacher she guides public and private classes in the Bay Area with an emphasis on girls in the juvenile justice system. While pursuing her 500-hr RYT studies, she is also currently training to be a Doula. Following the energy yoga brings her, Monique knew this passion needed to be shared. The Art of Yoga Project allows her to provide a sincere, honest, grounded community to the classes she guides. Monique encourages the girls to find their own happiness, grace and warmth while they explore the practice of yoga and art.