Staff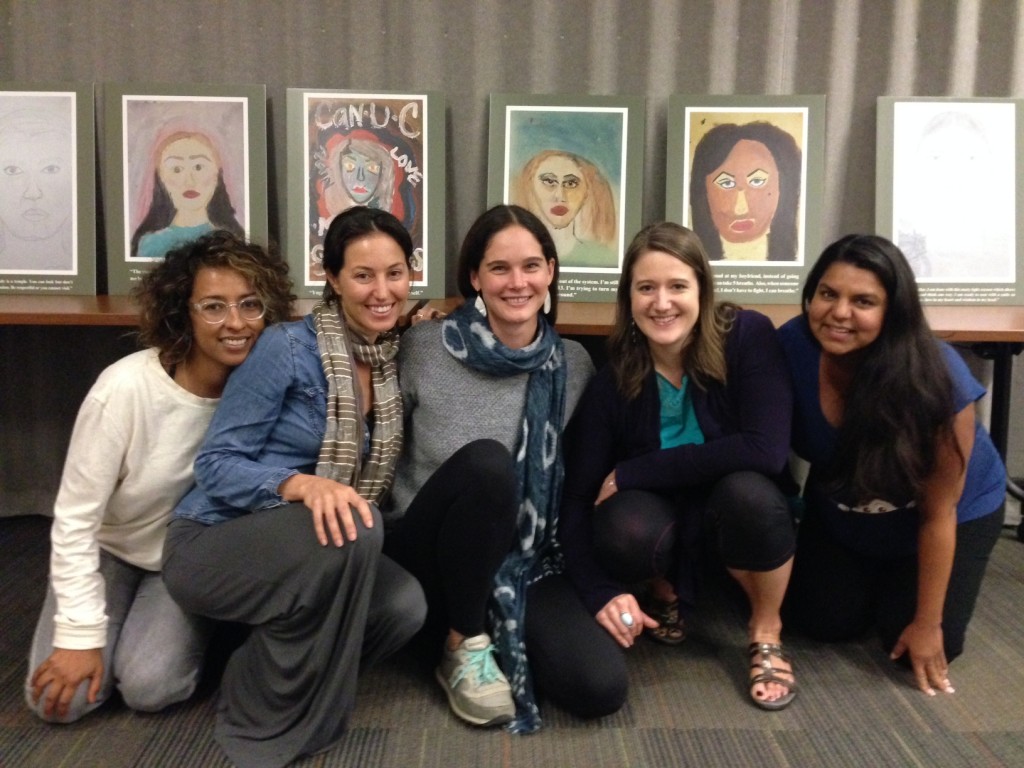 The team at The Art of Yoga Project comes from many walks of life, passionately contributing their experience and backgrounds to help fulfill our mission. 
Lisa Pedersen
Executive Director
Lisa has been the Executive Director at The Art of Yoga Project (AYP) since 2009.  Before AYP, she had a notable career in high tech with an impressive track record in the corporate sector.  Lisa has lived and worked abroad for many years and has experience in fundraising and nonprofits through her volunteer work for the Junior League of Palo Alto Mid Peninsula and other Bay Area nonprofits. She is a certified yoga and meditation instructor through the Ananda Yoga Teacher Training program, which focuses on yoga's spiritual as well as physical dimension. She has been mentoring women and teens for many years. Lisa believes that empowering women and children builds healthy families and vibrant communities.
Mary Lynn Fitton
Founder and Program Director
Mary Lynn has a commitment to young women's health, empowerment and well-being. Mary Lynn received her Masters in Science and Family Nurse Practitioner degree at the University of California, San Francisco (UCSF) in 1994. She has been a registered nurse for over 25 years with specialties in neuroscience and women's and adolescent healthcare. In 2013, she was accepted into the Child Trauma Academy's train the trainer program for the Neurosequential Model of Therapeutics. A certified yoga teacher since 1998 and founding member of the Yoga Service Council, her work has been featured in Yoga Journal, The San Francisco Examiner, Spirituality and Health, Elephant Journal, The Huffington Post and the International Journal of Yoga Therapy.
Nicole Angiel
Development Director
Nicole has over ten years of experience in business development, proposal writing, project management and community outreach. Previously, she worked as a management consultant for Booz Allen Hamilton, and as a sustainability program manager for a local government agency in West Contra Costa County. She has a BA from Columbia University and a MS from University of Washington. Nicole is passionate about yoga and has been practicing for more than 15 years. She is honored to be able to support the mission of The Art of Yoga Project
Sarah Barnard
Site Director
Sarah has been working with The Art of Yoga Project since 2007, and comes from a diverse background in yoga, nutrition and therapeutic work with teens and adults. Sarah earned her Bachelor's of Arts degree in Psychology from Colorado College in 2004. She trained with the Institute for Integrative Nutrition, earning a certificate in holistic health coaching in 2009. She recently completed her Master's of Science in Counseling Psychology degree (MFT) at San Francisco State University. She completed her pre graduate internships with court-mandated teens in Redwood City and in SF State's Counseling Clinic for undergraduate and graduate students. She is currently working towards her MFT license through her work with AYP and working with university students at CSU East Bay. She's been a certified yoga teacher since 2008 and remains passionate about working with teen girls to help them find their light and their strength.
Kendra Zanotto-Copp
Site Director 
Kendra has taught with The Art of Yoga Project since 2009. Kendra is a 2004 Olympic medalist in synchronized swimming. She has extensive experience working with youth and has been a National synchronized swimming coach since 2004. She holds a BA in Political Science from Columbia University and is currently working towards an MA in Education at San Jose State University.
Shikha Prasad Hutchins
Site Director 
One of the The Art of Yoga Project longest serving teachers, Shikha has been with the organization since 2006. Along with founder Mary Lynn Fitton, Shikha co-authored the financial literacy curriculum Girls Empowered by Money Mindfulness (GEMM) as well as the Aftercare Creative Arts Catalog (ACAC). In her role as Site Director, she has implemented these curricula and actively expanded the reach of AYP services to young women post-incarceration, partnering with agencies such as StarVista and Women's Recovery Association in San Mateo county and the Center for Young Women's Development and Mission Girls in San Francisco. Shikha also oversees the AYP Mentor Program and the mentor trainings. Shikha was the Executive Director at the non-profit yoga studio CHANGE of the Peninsula, has worked for the youth empowerment organization Power of Hope and has been a high school literacy tutor. She completed her certified yoga teacher training at Avalon Yoga in Palo Alto in 2005. Shikha is pursuing a degree from San Francisco State University in studio art with an interest in inequality and women's studies.
Maighna Jain
Site Director
Maighna comes to AYP from a background in psychology, criminal justice, and law.  She began working with youth as a senior caseworker for youth in the San Francisco juvenile justice system.  She then went on to law school in San Francisco and has been practicing in the Bay Area for several years as an advocate for domestic violence victims and currently works as an attorney for Legal Advocates for Children and Youth (LACY) for youth who are involved in both the foster care and juvenile justice system, many of whom are identified as victims of sexual exploitation.  Maighna began to see the effects of using breathing techniques for these youth when she would ask her clients to take a deep breath before going into court or before telling their stories, and it would make a positive impact.   Maighna completed her 250-hour teacher training program at Amrit Yoga Institute in Salt Springs, Florida.  She has been with The Art of Yoga Project as a teacher since Fall 2013 and hopes to help expand its programs to reach more youth who could benefit from the power of yoga, breath, and artistic expression.
Jessica Archer Nuzzo
Site Director 
Jessica began practicing yoga in 1997, became a certified teacher in 2007, and joined The Art of Yoga Project in 2009.  Jessica is an E-RYT 500 certified Yoga Instructor with over 1500 hours of training and is also a certified Level 2 Reiki practitioner.  She maintains a deep foundation in the original (circa 2000) principles of Anusara™ yoga, has specific training to teach at risk youth, and studies yoga philosophy, meditation, the eight limbed path, anatomy, pranayama, and how these practices can help us to engage in and live a more empowered life. Jessica received a BFA in Journalism and Theatre from New York University in 2001.
Catherine Killion
Site Director
Catherine has been practicing yoga since 1983. She attended her first teacher training in 1999 with Aadil Palkivala. She is an E-RYT 500 certified White Lotus yoga teacher, and has been teaching public, corporate and private classes since 2007 in Los Gatos and San Jose.   In addition to her passion for yoga, Catherine is also certified in Yoga-Thai massage and has graduated from The Institute of Integrated Nutrition as a certified health counselor. In her classes for The Art of Yoga Project, Catherine encourages the girls to find their own passion, joy and loving hearts and believes that her background of Yoga, Thai massage and holistic health mentoring is integral to her work. Catherine has also raised 7 children with compassion, humor and grace.
Erica Magill
Site Director 
Erica first began working with incarcerated juveniles in 2004, teaching poetry and creative writing to young men in Los Angeles. She found that allowing these youth to have a voice provided them the opportunity to make peace with their past, and simultaneously envision their future. She received her certification to teach yoga in 2007, and in that same year was introduced to Mary Lynn and The Art of Yoga Project, where her work with at-risk youth could continue. She is passionate about creating a safe space where girls feel cared for and loved, and are able to express their best selves. Erica holds a B.A. in Medical Anthropology from UC Berkeley, is a registered yoga teacher, and a certified massage therapist.
Danielle A Harris, Ph.D.
Research Director
Danielle, an Assistant Professor of Justice Studies at San Jose State University, joined The Art of Yoga Project in 2010. Danielle is responsible for survey and questionnaire design, supervising interns, ensuring integrity of data collection and analysis, and disseminating data at national conferences. Danielle recently received a grant from the Harry Frank Guggenheim Foundation for an extensive follow up study of civilly committed sex offenders. She received her doctorate in Criminology in 2008 from Griffith University, Australia. Prior to that, she completed a Masters degree in Criminology and Criminal Justice at the University of Maryland (2004) and a Bachelor's Degree in Justice Studies at the Queensland University of Technology and the University of Westminster, London (1999). She has presented at numerous conferences including ATSA, ASC, and ACJS. Her research interests include many aspects of sexual offending and sexuality over the life course: specialization and versatility; the criminal career paradigm; desistance, and related public policy; the experience of women in the criminal justice system; the causes and consequences of female offending; and the nature and extent of psychopathy in women and girls.