Advisory Board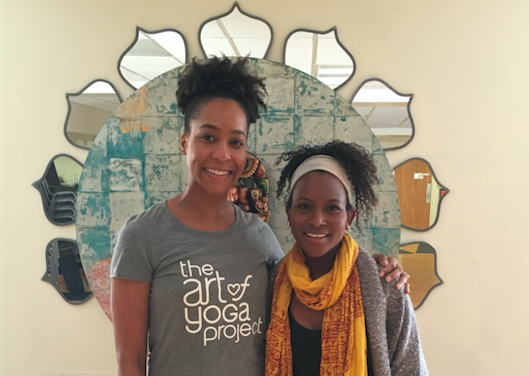 The Art of Yoga Project Advisory Board provides guidance and expertise in child trauma, cultural humility, juvenile justice, mindfulness, multiracial health, psychology, yoga and wellness.
Dianne Bondy
Social Justice Activist and Yoga Expert
Dianne Bondy is a celebrated yoga teacher, social justice activist and leading voice of the Yoga For All movement. Her inclusive view of yoga asana and philosophy inspires and empowers thousands of followers around the world – regardless of their shape, size, ethnicity, or level of ability.
She applies over 1000 hours of training to help her students find freedom, self-expression and radical self-love in their yoga practice. She shares her message and provides millions of followers with affordable access to online yoga classes, workshops and tutorials at her virtual studio: Yogasteya.com. Dianne contributes to Yoga International, Yoga Journal, Do You Yoga, and Elephant Journal. She is featured and profiled in international media outlets, including The Guardian, Huffington Post, Cosmopolitan, and more. She is a spokesperson for diversity in yoga and yoga for larger bodies, as seen in her work with Pennington's, Gaiam, and the Yoga & Body Image Coalition. Her work is published in the books Yoga and Body Image and Yes Yoga Has Curves.
Leslie Booker
Social Justice, Mindfulness and Cultural Responsivity Expert
Booker brings her heart, wisdom, and compassion to the intersection of social justice, yoga, and mindfulness. She has shared these practices with vulnerable populations in New York City since 2006, working in juvenile detention centers, residential treatment centers, and on Riker's Island. She travels nationally utilizing the foundation of Dharma and embodied wisdom practices to support the sustainability of front line changemakers, and offers mindful movement on meditation retreats. Booker is on faculty with the Prison Mindfulness Institute and Off the Mat Into the World. She teaches at Spirit Rock Meditation Center, Insight Meditation Society (IMS), New York Insight, Worldwide Insight, Garrison Institute and Shambhala Mountain Center. She is a co-founder of the Yoga Service Council at Omega Institute and of Urban Sangha Project in NYC. Booker is a co-author of Best Practices for Yoga in a Criminal Justice Setting, a contributor to Georgetown Law's paper on Gender and Trauma, and Sharon Salzberg's book 'Real Happiness at Work'. She is a graduate of Spirit Rock's Community Dharma Leader's Training, and is currently in their 4 year Retreat Dharma Teacher Training.
Stephanie S. Covington, PhD, LCSW
Co-Director Institute for Relational Development and the Center for Gender and Justice
Stephanie Covington is an internationally recognized clinician, organizational consultant, and lecturer.  For more than thirty years her work has focused on the creation of gender-responsive and trauma-informed services.  Her extensive experience includes designing women's services at the Betty Ford Center, developing programs for girls and women in criminal justice settings, and being the featured therapist on the Oprah Winfrey Network TV show entitled Breaking Down the Bars.  She has also served as a consultant to the United Nations Office on Drugs and Crime (UNODC) in Vienna and was selected for the federal Advisory Committee for Women's Services (ACWS).  Educated at Columbia University and the Union Institute, Dr. Covington has conducted seminars for behavioral health professionals, community organizations, criminal justice professionals, and recovery groups in the United States, Canada, Mexico, Europe, Africa, Iceland, and New Zealand.  She has served on the faculties of the University of Southern California, San Diego State University, and the California School of Professional Psychology.  She has published extensively including Voices: A Program of Self-Discovery and Empowerment for Girls, a gender- responsive, trauma- informed treatment curricula.
Rebecca Epstein, JD
Director of Georgetown Center on Poverty, Inequality and Public Policy; Associate Director of the National Girls Initiative, a program run by the USDOJ's Office of Juvenile Justice and Delinquency Programs

Rebecca Epstein is the Executive Director of the Georgetown Law Center on Poverty and Inequality. She has over 20 years' experience in litigation and policy development, and she has maintained a special focus on race and sex discrimination and the policies and practices that support marginalized girls.  Rebecca was the lead author of Blueprint:  A Multidisciplinary Approach to the Sex Trafficking of Girls (2013) and co-author of The Sexual Abuse to Prison Pipeline:  The Girls' Story (2015), both published by the Center on Poverty and Inequality.  Forthcoming reports include Gender and Trauma:  Somatic Interventions for Girls in Juvenile Justice and Implications for Policy and Practice, as well as reports presenting original research on the relationship between girls of color and school-based police officers, and adults' perception of Black girls as older and less innocent than their white peers.
Rebecca's work has been published across the country, and she has appeared as an expert speaker at numerous national and local briefings and conferences on issues affecting marginalized girls and women.  She currently serves as the Associate Director of the National Girls Initiative, a program run by the USDOJ's Office of Juvenile Justice and Delinquency Programs, and is a member of the Steering Committee of the Girls @ the Margin National Alliance.  Rebecca has been proud to partner with the White House, the US Departments of Justice and Education during the Obama Administration, as well as national non-profit organizations, researchers, and other academic institutions on national conferences, in-depth reports, and other projects relating to issues affecting low-income girls and girls of color.
Rebecca received her J.D. from New York University School of Law, where she was awarded a fellowship from the Arthur Garfield Hays Civil Liberties Program, and received her B.A. in history with honors from Brown University.
Faith Hunter
Yoga and Mindfulness Expert
Faith Hunter is a global, next-generation yoga instructor and the creator of Spiritually Fly™, which blends classic yogic principles and real world personal experiences into a grounded, integrated flow. Faith also owns Embrace Yoga DC, yoga training & community center located in a multicultural nest of Washington, DC. A favorite choice for mass yoga gatherings, Faith has taught at Yoga at the Great Lawn, the Cherry Blossom Festival in Washington DC, and The White House Easter Egg Roll. Faith is an esteemed faculty for Yoga Nation on Tour as well as Kripalu. She tours internationally, teaching yoga workshops, teacher trainings, and public appearances. Faith has also graced the covers of Yoga Journal, Om Yoga & Lifestyle (UK-based), Origin Magazine, and Sweat Equity. She has also appeared in Essence, Black Enterprise, Washington Post, several other publications, and numerous blogs. Website: www.Faithhunter.Com
Giselle Mari
Yoga and Mindfulness Expert
Giselle Mari is an Advanced Certified Jivamukti Yoga teacher and E-RYT500 whose yogic path began in the early 90's. She's had the great honor to study extensively with her gurus Sharon Gannon and David Life who she also assisted throughout the western U.S. and served as a mentor on the Jivamukti Yoga Teacher Training faculty.  Based in the San Francisco Bay Area, Giselle presents at yoga conferences, festivals and studios around the globe teaching dynamic and insightful classes with a spunky grounded approach to yoga.  She's appeared on the cover of Yoga Journal and Yoga International Magazine as well as being featured in many of their articles. She is also featured in Kathryn Budig's book Women's Health: The Big Book of Yoga published by Rodale. For more information: www.gisellemariyoga.com
Kelly McGonigal, PhD
Past Editor-in-Chief, International Journal of Yoga Therapy
Kelly McGonigal, PhD, is a health psychologist and lecturer at Stanford University, and a leading expert in the new field of "science-help." She is passionate about translating cutting-edge research from psychology, neuroscience, and medicine into practical strategies for health, happiness, and personal success. Her psychology research on compassion, mindfulness, and emotion regulation has been published in The Journal of Personality and Social Psychology, Motivation and Emotion, The International Journal of Psychiatry in Medicine, and The Journal of Happiness Studies. From 2005-2012, Dr. McGonigal served as the Editor in Chief of the International Journal of Yoga Therapy, a peer-reviewed journal of mind-body research, healthcare policy, and clinical practice. For more information about Kelly, please visit her website.
Bruce Perry, MD, PhD
Founder and Senior Fellow of The Child Trauma Academy
Bruce D. Perry, M.D., Ph.D. is the Senior Fellow of The Child Trauma Academy and adjunct professor in the Department of Psychiatry and Behavioral Sciences at Northwestern University School of Medicine in Chicago. Over the last thirty years, Dr. Perry has been an active teacher, clinician and researcher in children's mental health and the neurosciences holding a variety of academic positions. His clinical research over the last ten years has been focused on integrating concepts of developmental neuroscience and child development into clinical practices. This work has resulted in the development of innovative clinical practices and programs working with maltreated and traumatized children, most prominently the Neurosequential Model of Therapeutics (NMT). The Child Trauma Academy has multiple partners in various sectors of the community and has created many programs in context of public-private partnerships with the goal of promoting positive change within the primary institutions that work with high risk children such as child protective services, mental health, public education and juvenile justice. Please click here for more information about Dr. Perry.
Desiree Rumbaugh
Yoga and Wellness Expert
Desirée Rumbaugh, creator of the DVD series Yoga to the Rescue travels the world and delights in teaching others what she has learned about overcoming challenges and healing body, mind and heart through the practice of Yoga. One of her strengths as a teacher is her "out of the box" thinking. Combine that with a positive attitude and you get an imagination that continually creates new ways of doing familiar things. Desirée is also a contributor to various organizations and publications, including Yoga Journal, where she was featured on the February 2008 cover. For more information, please visit www.desireerumbaugh.com.
Melanie Tervalon MD, MPH
Multiracial health educator and expert on "cultural humility"
Melanie Tervalon, MD, MPH, has over 30 years' experience in health care as a program director, advisor, teacher, clinician, strategist and consultant. She has spent 25 years of devoted work creating original approaches in the field of multicultural health with an emphasis on education within the health care professions. Dr. Tervalon's work incorporates principles of social justice, fairness and equity in program practice. Dr. Tervalon has a reputation for building constructive, participatory relationships inside and outside of institutions, modeling respect for divergent points of view, and setting a tone of urgency for the work of inclusive policies and practices in all settings. Dr. Tervalon is well published and recognized as an excellent public speaker locally, nationally and internationally. Please visit Melanie's website for more information.