Aftercare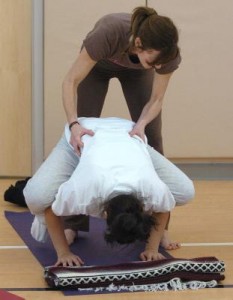 After the girls we serve make the difficult transition from juvenile hall back to the same situations prior to incarceration, they have very few services available to help them make positive choices in their lives. When released, they face the influences of drugs, alcohol, gang involvement, truancy, self-harm, negative relationships and abuse.  Many re-offend in order to maintain connection to the services they need. In response we developed The Art of Yoga Project Aftercare Program.
The overall goal of The Art of Yoga Project's Aftercare Program is to support and encourage girls to continue to practice the skills learned with our Yoga & Creative Arts Curriculum upon release. More specifically, AYP has two objectives: (1) to effect behavioral change in the girls that we serve, and (2) to provide a holistic continuum of care and support for them.
This continuum extends from their detention through to their re-entry into the community by (1) providing the girls with specially designed "Take-it OM" bags upon release, each containing a yoga mat, the individual girl's journals and artwork, and a list of yoga studios where she can practice for free; (2) connecting and maintaining relationships with these "Partner Studios" throughout the area, where the girls can practice free of charge; (3) creating specific AYP aftercare classes where the girls congregate "on the outs," ideally in collaboration with other community based organizations; and (4) when possible, connecting those who have requested a yoga mentor with a trained AYP teacher who has committed to 12 months of volunteering as a yoga mentor to encourage and support the continuation of her yoga practice.
AYP Aftercare Programs
The Art of Yoga Project is honored to partner with exceptional community-based organizations that align with our goals to bring accountability, wellness and empowerment to at-risk and exploited teen girls. These innovative collaborations enable us to maintain and strengthen our relationships with the girls we served in detention and offer them the support they need for success. We offer aftercare classes in the following locations:
San Mateo County
StarVista GIRLS Program: GIRLS is an intensive court-mandated program that provides assessment, counseling, and case management services for incarcerated girls aged 13 – 18. The program's goals are to improve psychological well-being, physical health, emotional stability, family/social interactions, occupational readiness and intellectual growth. GIRLS Program continues with individual and family counseling while girls are released from detention. AYP provides once weekly Yoga and Creative Arts classes to the girls in direct collaboration with StarVista therapists.  http://www.star-vista.org
Women's Recovery Association:
Many of the girls we see suffer from addiction and are placed at a local recovery center upon their release. WRA provides comprehensive programming that includes individual and family counseling, group therapy and educational groups that focus on women's recovery from substance abuse and related addictive behaviors (such as eating disorders and nicotine dependence). AYP provides once weekly yoga classes for the girls and women of WRA. http://www.womensrecovery.org/
San Francisco
Center for Young Women's Development (CYWD)  
Many of the girls from the San Francisco Juvenile Justice Center (SFJJC) attend programming at the Center for Young Women's Development.  AYP offers classes several times a month for their Sisters Rising Program.  Sisters Rising offers paid internships to 17 girls at a time who participate in a wellness and empowerment curriculum called "Beyond Survival." AYP partners with CYWD for healing, skills development, political education, community organizing and reintegration into the community with the goal of gainful and meaningful employment.  http://www.cywd.org/
SAGE Project  
With partners from all over the US and around the world, SAGE works to end human trafficking, through education and advocacy. At home SAGE gives hope to children and adults who have been exploited by human traffickers. SAGE offers comprehensive services — case management, mental health counseling, support groups, life skills training, vocational guidance, job preparation and mentoring to help exploited women and girls escape, recover from their trauma and, ultimately, acquire the skills and strength they need to heal and start new lives. AYP is honored to teach our Yoga and Creative Arts Curriculum to the girls of SAGE in their weekly Life Skills Program.   http://www.sagesf.org
Mission Girls
Mission Girls is an afterschool and summer program targeted to Latina girls. Mission Girls' Young Queens on the Rise program is a gender specific group for girls that have been involved in the Juvenile Justice System, or for those who engage in "at-risk" behaviors. The girls are either court mandated or referred by an agency or community member. The goal is to promote self esteem, enhance academic performance, develop leadership abilities, anti-violence education, and empower young women to make positive choices in their lives. The program hosts All-Nighters twice a month on Fridays, an alternative event for "at-risk" girls to begin their weekend on a positive path. 
 We are delighted to offer yoga classes as a healthy alternative to self-destructive behaviors on these Friday nights.  http://www.mncsf.org/
Aftercare Curricula
The Art of Yoga Project teaches primarily yoga, creative arts and reflective writing classes for girls in aftercare. We also recognize the need for issue-specific curricula that specifically address challenges facing girls once they return to their home communities. Two are GEMM and ACAC:
GEMM Girls Empowered Through Money Mindfulness
The AYP Financial Literacy Curriculum, or GEMM, is intended to mitigate the lack of financial education available for youth today, particularly for young girls in at-risk communities. The goal is to empower teen girls to:
Become aware of their attitudes about money
Familiarize themselves with financial language
Dispel financial myths
Earn money in ethical ways
Learn the "laws of money"
Save more than they spend
Invest wisely
Consciously and practically plan for their futures
Vision and actualize stable, purposeful, and meaningful lives 
ACAC Aftercare Creative Arts Catalog
The Aftercare Creative Arts Catalog (ACAC) is a listing of innovative expressive art experiences geared for teen girls in the juvenile justice system who are transitioning out of custody into the community. The intention is to offer a panoply of choices for the girls and their support teams in designing programming. The overall goal is to increase engagement, compliance and effectiveness. The ACAC was developed in response to learnings from The Art of Yoga Project's core programming in detention and rehabilitation centers in three San Francisco Bay Area counties since 2005.
The ACAC is essentially a handbook of creative art ideas that girls, AYP staff and treatment facility partners can peruse together to plan activities for upcoming sessions.
More information about GEMM and ACAC is available upon request.