About Us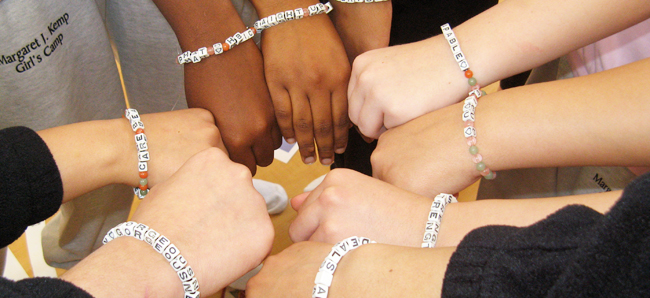 The Art of Yoga Project focuses on early intervention to help marginalized and justice-involved girls prepare for a positive future.
We are leaders in the treatment and rehabilitation of justice-involved girls by offering gender-responsive, trauma-informed, culturally-responsive, and strengths-based programming.
Our mission is to lead at-risk, exploited and incarcerated girls toward accountability to self, others, and community by providing practical tools to effect behavioral change. We send specially trained yoga teachers, creative arts and writing educators into facilities to deliver our mindfulness-based curriculum.
We serve marginalized girls in short and long-term detention and rehabilitation centers as well as in substance abuse recovery settings, agencies serving CSEC (commercially sexually exploited children), Level 14 facilities (for girls with high psychiatric needs), alternative high schools and high schools in gang-impacted communities.
Our History
Created by nurse practitioner and yoga instructor, Mary Lynn Fitton, The Art of Yoga Project began in 2003 as a pilot program and became an independent 501(c)(3) nonprofit organization in 2005. Over the past decade, we have served over 10,000 unique youth.
While in clinical practice, Mary Lynn saw first-hand the challenges facing many adolescent girls, especially those with extensive histories of trauma and little support at home. Many of the young women she treated lacked a fundamental awareness of, and connection to, their own physical and emotional needs. Without this core self-awareness and a sense of respect for themselves and their bodies, the girls had little chance of ending their high-risk behaviors, seeking healthy alternatives and lacked tools for emotional regulation.
The Art of Yoga Project responded with an innovative curricula combining yoga, meditation, creative arts and writing to promote self-awareness, self-respect and self-control. This curricula and our programming has been continually adapted and improved to effectively serve over 800 unique youth annually in Northern California.
The Art of Yoga Project is a 501(c)(3) non profit. Tax ID #20-2448697.